Does electricity flow through your veins?
Austria needs electricity. And you need an apprenticeship? That's very convenient. After all, our mission is to safeguard Austria's electricity supply. No two days will ever be the same, and fresh challenges will always await you. As part of our experienced team, you will have exciting jobs to do in breath-taking situations.
Here you can see our high-voltage handler and three-phase AC guards at work.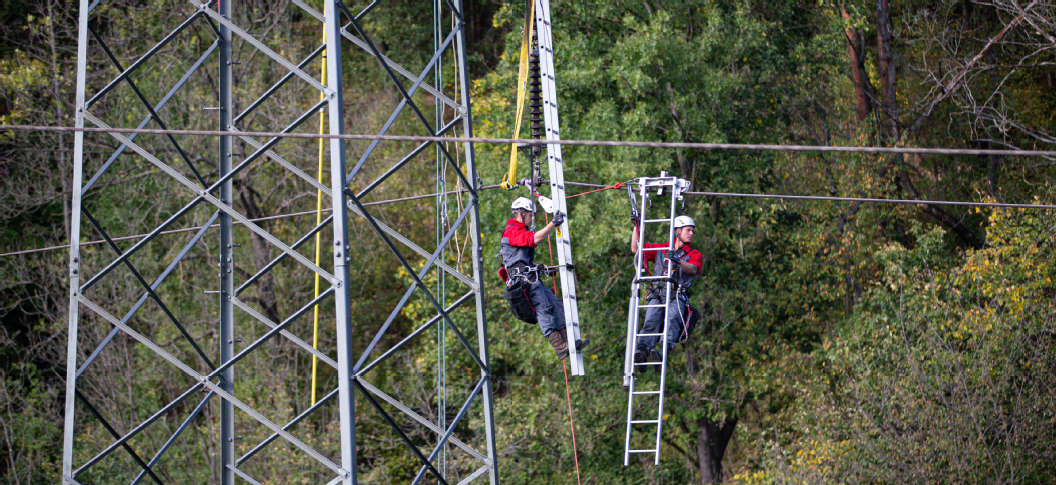 High-voltage handler
Fly high with APG! Working for APG you will climb up to high-voltage overhead lines and not only take responsibility for their maintenance and repair, but also troubleshoot and ensure top quality in conversion and new construction projects.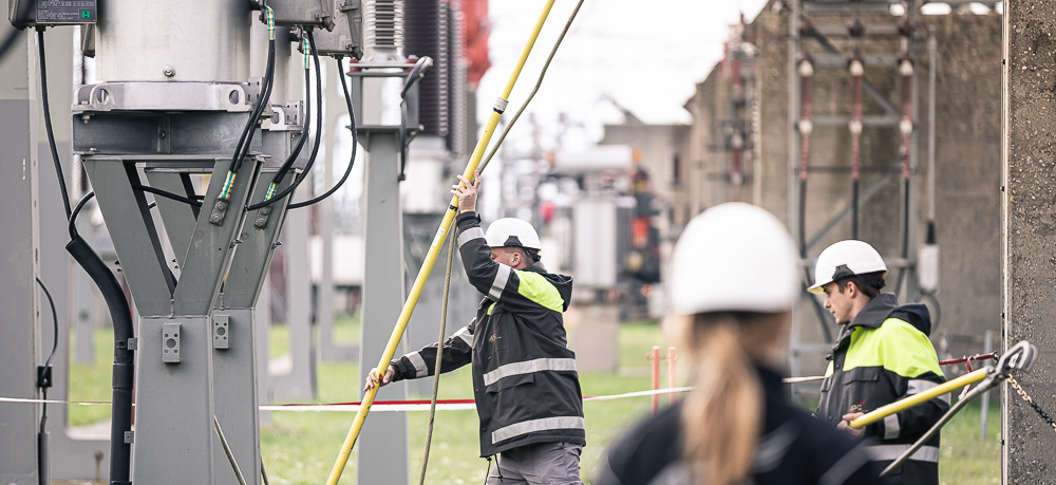 Three-phase AC handler
Is hands-on work your style? Then you've come to the right place. At APG you'll learn the real trade by getting to the root cause of faults and repairing and making the necessary parts yourself. Wiring, installation and welding are part and parcel of your daily work.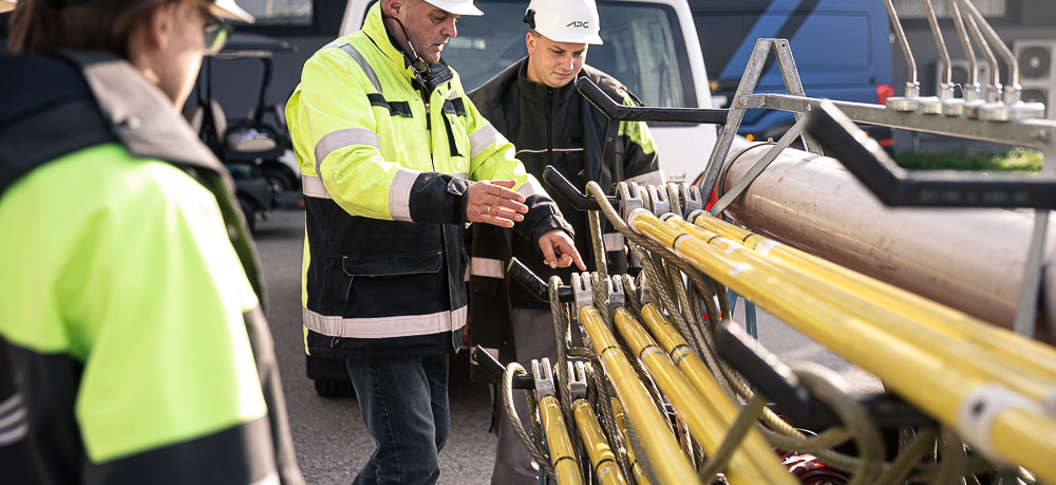 Electrical engineering technician
It's electrifying! During your vocational training as an electrical engineering technician, you will start by learning about simple circuits in the main module on systems and industrial engineering. But don't worry: security always has top priority. By the fourth year of your apprenticeship, you will have an in-depth understanding of digital and analog technology.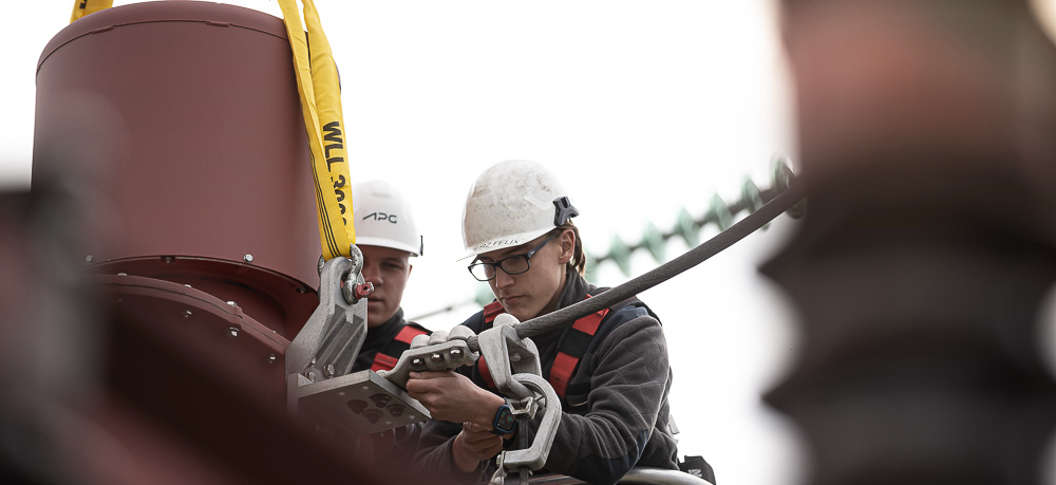 Metalwork technician
Not just for metalheads! As a metalwork technician, you will learn a wide range of metalworking techniques in the first year of your apprenticeship. You will work on cutting-edge machinery, programme the work pieces yourself and transfer them to the fully automated production machinery. That is how state-of-the-art metalworking at APG works!
What our apprentices can expect
Personal and individual attention

Leading-edge training workshops

iPad from day 1 of the apprenticeship

Bonuses for special trade school achievements

Discounted lunches

Travel allowance

Diverse training opportunities

Accommodation in updated lodgings

Varied recreational programme

Visits to partner companies
Your work, your income
1st year of apprenticeship – €900
The first year of the apprenticeship is an exciting one! You can put what you learned at our training centres in Ybbs on the Danube or Kaprun into practice and will attend vocational school in Amstetten or Hallein in ten-week blocks (per year of your apprenticeship). During this time you can stay in a boarding school free of charge.
2nd year of apprenticeship – €1,122
This gives you an intensive practical base right from the second year onwards. In each year of the apprenticeship you will also have the opportunity to engage in character-building activities and visit interesting partner companies.
3rd year of apprenticeship – €1,458 and 4th year – €1,925
These will be very exhilarating years! In years three and four you will work at one of our substations, in addition to a part-time training module at the training centre.
To all parents
In the first year of their apprenticeship, our apprentices receive their basic training at one of the state-of-the-art training centres in Kaprun or Ybbs on the Danube. During this time, they are put up in our directly affiliated apprentice residences where they are not only supervised, but also participate in a varied recreational programme. This helps them to make friends quickly and strengthens the APG team spirit.
The apprentices attend vocational school in Amstetten or Hallein in blocks of ten weeks per year of their apprenticeship. During this time, the apprentices can live in a boarding school free of charge.
Our training sites
Starting September 2022 we will offer apprenticeships at the following sites:
Awards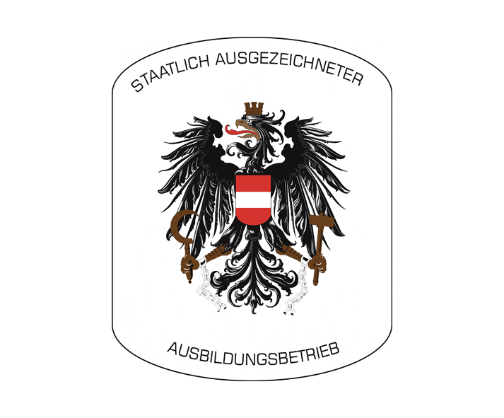 State-awarded company for apprenticeship
Several years ago, Austrian Power Grid AG was awarded the national emblem "State-awarded company for apprenticeship" by the Ministry of Economics for the high quality of its apprenticeship training. This award is only given to training companies that have made a special contribution to the Austrian economy through exceptional achievements in the training of apprentices. Only a few Austrian companies have received this award so far.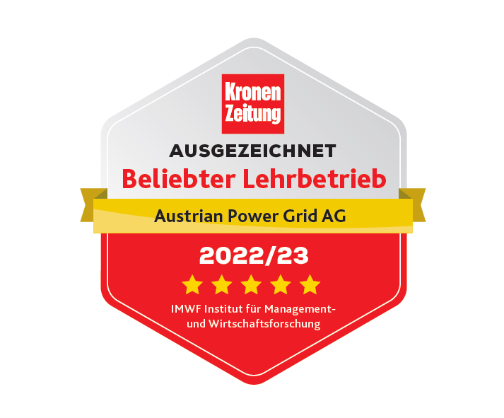 Kronen Zeitung: Popular apprenticeship company 2022/2023
Austrian Power Grid AG was awarded the "Popular Apprenticeship Company" seal of quality. The basis for this was a multi-method study by the Institute for Management and Economic Research among the 2,000 largest Austrian companies, for which vocational school teachers were surveyed, company evaluations by apprentices on platforms and in social media were evaluated, the reputation of the companies as apprenticeship companies was surveyed in the media and the companies were questioned about apprenticeship training.
Application steps:
1
How do I apply?
Here you can find our current vacancies. Click on the job ad you are interested in, and then scroll to the end for the link to submit an online application.
2
Data privacy policy:
First, please confirm that you agree with our data privacy policy. You can read more about it here.
3
Upload your documents:
Here you can complete your application. The fields marked with a red asterisk (*) are required. Then upload your cover letter, your CV and your diplomas and certificates. Just click on the link that says "Please upload your documents here (cover letter, CV, diplomas and certificates, etc.)". A new window will open where you can add the files individually. Once you've added all files, click "Continue" and you will be returned to the online application. Now, click on "Submit application" and your documents will be sent to us.
4
Confirm submission of your application:
As soon as you have submitted your online application, you will receive a notification from us by e-mail.
To the main navigation